Filter Bags
Standard Filter Bags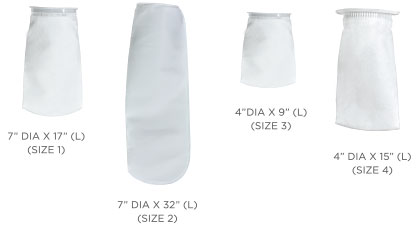 Styles of Filter Bag Media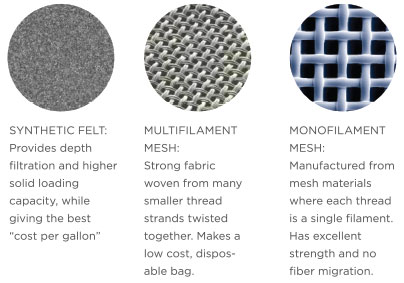 Standard filter bags for a wide array of applications. Highly controlled manufacturing procedures ensures consistent quality and no contamination, while complying with food grade standards.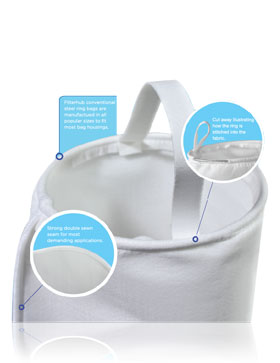 FilterHub Polylock Filter Bags
Our Polylock filter bags feature a fully welded construction, creating a bypass free filter bags due to the lack of needle holes caused by the sewing process found in standard sewn filter bags. The results are tighter seams, higher bag efficiencies and improved finished product yields.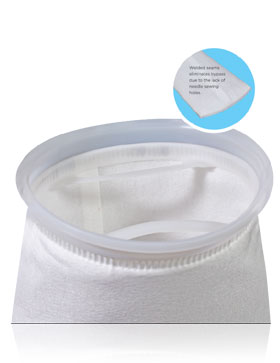 Features and Benefits
Fully welded construction with Polylock ring provides 100% bypass free filtration.
Polylock ring creates a complete compression seal between filter bag and housing, removing possibilities of bypass from the top.
Higher performance efficiency.
Total elimination of possible thread contamination.
Fiber migrations are reduced significantly with singed or glazed surface finishes.
Moulded heavy duty handles for faster installation and removal.
FDA compliant materials available upon requests.
FilterHub Snap Ring Filter Bags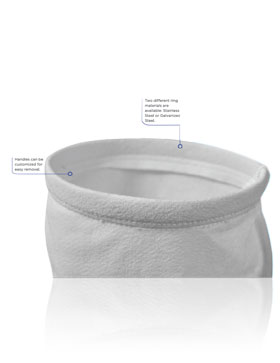 Snap Ring filter bags are cost effective and made to last heavy applications. Our Snap Ring Filter Bag will fit all industry standard bag housings.
Two different ring material are available: Stainless Steel and Galvanized Steel.
FilterHub Monofilament Bags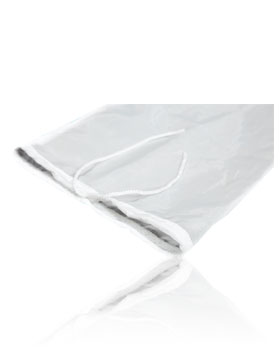 Nylon Monofilament series filter bags offer enhanced removal characteristics and improved strength and durability. Each filament in the weave has been extruded with a consistent yarn diameter, enabling the filtration structure to deliver exact pore openings.
FilterHub Specialty Filter Bags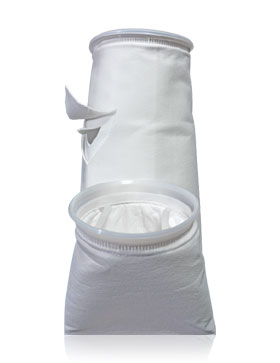 Demand for stringent qualioty standards has created the need for development of specialized filter bags for many industries such as automotive parts manufacturing, chemical processing, waste waters treatment, metal casting and etc.
FilterHub's Absolute bag & Oil Absorption bag cater to these demands amd more.
FilterHub Customization Capability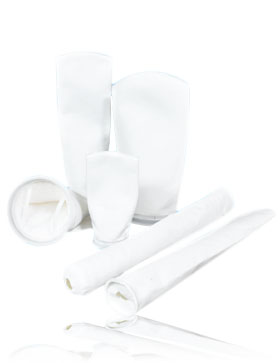 We offfers clients the option to customize filter bags according to custom specifications and unique shapes in a variety of filter media materials. Our experience in designing and manufacturing non-standard bags enables us to give clients greater accuracy, dependability and efficiency for custome orders.
FilterHub Anode Bag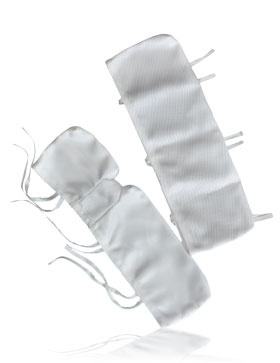 Anode Bags are manufactured from 100% polypropylene and all bags are provided with sewn-on cords made of polypropylene for fastening. Each anode bag dimension is adapted to the dimensions of the anode basket through a careful processing and strict manufacturing process.
FilterHub Filter Press Cloth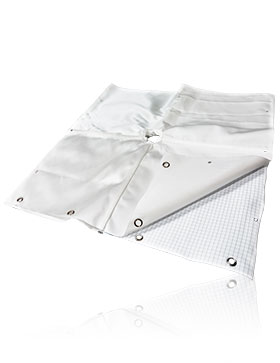 Filter Press Cloths have been designed to cope with the specific conditions in the filter press. The fabrication techniques and choices of filter media are turned to the requirements of different sludges, products and industries.
A variety of materials from the commonly used Polypropylene, Polyester and Polyamide are available with multifilament and monofilament weave, depending on the filter press application.
MATERIALS
Polyester Needle Felt (PE)
Polypropylene Needle Felt (PO)
Nylon Monofilament (NMO)
Polyester Monofilament (PEMO)
Polypropylene Monofilament (POMO)
RING
Polyester Polylock Ring
Polypropylene Polylock Ring
OPERATING TEMPERATURE
Polyester Needle Felt: 120°C
Polypropylene Needle Felt: 90ºC
Nylon Monofilament: 120ºC
Polyester Monofilament: 120ºC
Polypropylene Monofilament: 90ºC
MAXIMUM DIFFERENTIAL PRESSURE
RECOMMENDED CHANGE OUT PRESSURE