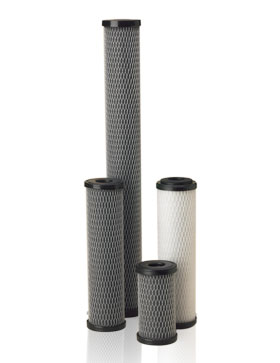 C Series Dual Purpose Powdered-Activated Carbon Cartridges
Economically priced
Provides sediment filtration, bad taste & odor and chlorine taste & odor reduction
High dirt-holding capacity
Available in three sizes
Recommended for chlorinated water supplies
C Series cartridges offer an economical solution for all of your general-purpose water filtration needs. Constructed of a carbon impregnated cellulose media, these dual-purpose cartridges filter out fine sediment particles and reduce unwated taste, odor and chlrine taste and odor from your tap water. A polyester reinforcement backing and external netting provide additional strength and dirt-loading capacity.
C Series cartridges are available in three different sizes and nominally rated at 5 micron.
These dual-purpose cartridges are well suited for a wide range of residential applications and make excellent polishing filters when used in process or closed-loop streams.
Model

Maximum

Dimensions

Micron Rating

(Nominal)

Initial DP (PSI)

@ Flow Rate (gpm)

Chlorine Taste &

Odor Reduction

@ Flow Rate (gpm)

C1

2-1/2" X 9-3/4"

(64mm x 248mm)

5

4 psi @ 5 gpm

(0.3 bar @ 19 L/min)

>2,500 gallons @ 1 gpm

(>9,500 litres @ 3.8 L/min)

C2

2-1/2" x 4-7/8"

(64mm x 124mm)

5

2.0 psi @ 2 gpm

(0.1 bar @ 7.6 L/min)

>1,250 gallons @ 0.5 gpm

(>4,700 litres @ 3.8 L/min)

C1-20

2-1/2" x 20"

(64mm x 508mm)

5

1.0 psi @ 5 gpm

(0.1 bar @ 19 L/min)

>5,000 gallons @ 2 gpm

(>18,900 litres @ 7.6 L/min)
| | |
| --- | --- |
| Filter Media | PAC Impregnated Cellulose |
| End Caps | Vinyl Plastisol |
| Netting | Polyethylene |
| Core | Polypropylene |
| Temperature Rating | 4.4o C to 51.7o C |