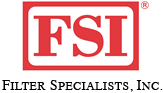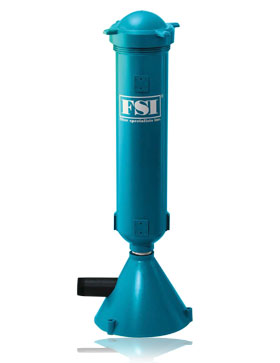 X100 Convertible Filter Housing
FSI's X100 Convertible Filter Housing provides an excellent, low-cost alternative to other types of filter housings. Manufactured from polypropylene with a UV inhibitor for all-weather durability, X100 housings are strong, lightweight and economical. Resistant to a wide range of chemicals for a wide range of industrial applications, the X100 will precisely fit your particular needs.
The X100 Filter Housing is Convertible
Designed to accept either a bag filter or a cartridge filter, the FSI X100 filter housing allows you to choose the filter media and construction to precisely fit your filtering needs.
X01 Filter Bag
Measuring 6" in diameter by a length of 20", the X01 Filter Bag has 2 square feet of surface area, making it equivalent to a standard #1 size bag. The X01 is fitted with the patented Polyloc ® Ring that seals directly against the wall of the filter housing and eliminates the chance of fluid by-pass.
X20 Filter Cartridge
The X20 Cartridge is a steep pore gradient, depth filter designed to have a large dirt loading capacity. The X20 measures 5.5" in diameter, with a length of 23.25". In laboratory tests, the X20 has performed standard 10" cartridges by holding 20 times the volume of dirt.
The design of the X20 Polyseal Cartridge features a single open end that directs fluid from outside the cartridge in through the filter.The cartridge bottom is equipped with FSUI's patented Polyseal End Fitting to ensure a by-pass free sealing without the need for double O-rings or flat gaskets.
| | |
| --- | --- |
| X100B | Housing, Lid, Basket, Lid Gasket |
| X100C | Housing, Lid, Cartridge Plate, Lid Gasket & Plate Gasket |
| Pressure Rating | 100PSIG @ 110° F |
| Port Size | 2" NPT |
| Lid Vent | 1/4" NPT |